In this guide, we will talk about things to do in Tenby, West Wales. So that the best things can be said about the wonderful coastal environment.
Tenby is a wonderful, and beautiful, historic fishing village that you must have seen in the pictures. Located in the beautiful area of Pembrokeshire, it is probably one of the most beautiful coastal cities in West Wales.
Here you will find many things to enjoy, such as historic castles, sandy beaches, and many delicious restaurants. If you are thinking of going there, you must read the guide beforehand so that you know in advance what you have to do there and where to go. We hope you enjoy the trip with this guide.
What to do in Tenby?
If you grew up in South Wales, then visiting Tenby would not be difficult for you. Spend your summer vacation here.
Now we will tell you what you can do to Tanby.
St Catherine's Island is a small ocean island, located on the sloping bay of Tenby Castle Beach. It is known as St. Catherine's Rock. It is located in the castle of St. Catherine. Before the fort was built, the island was to house some sheep and goats, and a small church was built, which was demolished in 1867 to make way for the fort.
The island is accessible on foot, but when the tide is high it is cut off from the mainland and inaccessible. So, if you choose your tide correctly, you will be able to visit the island easily, possibly with a set of stairs on its northwest view.
The fort itself has gone through various incarnations. After the island was purchased by the government in 1866, construction of the fort began a year later and was completed in 1870. Weapons were added after this date.
This fort has a long history. If you tell us about its history, you will have to write a separate article. The thing is that this fort is historical and many secrets are buried there.
So if you go for a walk in the Tenby, keep it on your list.
Visit four different beaches in 15 minutes:
Wales, and Pembrokeshire in particular, are famous for their beaches. Each year, the Foundation for Environmental Education (FEE) awards the Blue Flag and Green Coast Awards to beaches around the UK. Pembrokeshire has always been at the top of Welsh Beach counts, as they did at the 2019 Awards.
Pembrokeshire knows things when it comes to beaches. And this is very special about Tenby because the four beaches are not miles apart. 3 of them are so close that their distance can be measured in meters. So this observation can be a memoir of your life for you.
Tenby Harbor Beach, Tenby Castle Beach
 And finally, Tenby South Beach (we'll talk about that in detail below) are all very close to each other, and in fact, most people don't even know where Tenby Castle Beach stops, and Tenby Castle Beach. Where South Beach starts because there is not much distance between them. This is what adds to the beauty of the area. But it is certain. You will feel the sand under these four fingers with a brisk walk of 10-15 minutes.
Views of Castle Hill are some of the best views Tanby has to offer. Scenes that stretch as far as the Bristol Channel, especially on days. For this reason, it is one of the best places to visit in Tenby. People like to spend time here.
Take a trip to Caldey Island:
If you want to spend more than a day in this seaside town, be sure to include Caldey Island in your Tenby itinerary. Caldey Island is just a short boat ride from Tenby Harbor. You can have a great time on this island
The island is run by a community of Cistercian monks and is one of Britain's most famous sacred islands. The history of this island is thousands of years old. Everything here is historical so put it at the top of your list.
The island is open for tours Monday through Saturday from May to September, and tickets will be available at the Tenby Harbor Kiosk. Boats sail every twenty to thirty minutes. So sometimes you have to wait because sometimes it can take time due to the weather.
If you are obsessed with wildlife, be sure to take a boat trip around Calde and St. Margaret's to see seals, puffins, and thousands of other birds. This journey will be the most memorable journey of your life.
If you visit the beach and don't eat seafood like fish, your tour may be empty. So if you visit Tenby, you must eat seafood.
Fish and chips from the area are popular. People who come here for a walk try to fish. So if you visit there, you must try these things.
Fresh seafood and a view of the beach together are a unique pleasure. Take some food and walk with the waves.
Explore Manorbier Castle:
If you're looking for a more intimate castle on Castle Hill than the ruined tower, Manorbier Castle is a great place to visit. Just 5 miles southwest of Tenby, Manorbier Castle is built on cliffs overlooking Manorbier Beach.
The fort was built by the Anglo-Norman de Berry family in the early 12th century. Today it is privately owned, but these are public tours.
The fort is open daily from 10 pm to 4 pm but sometimes closes when there are private functions and celebrations.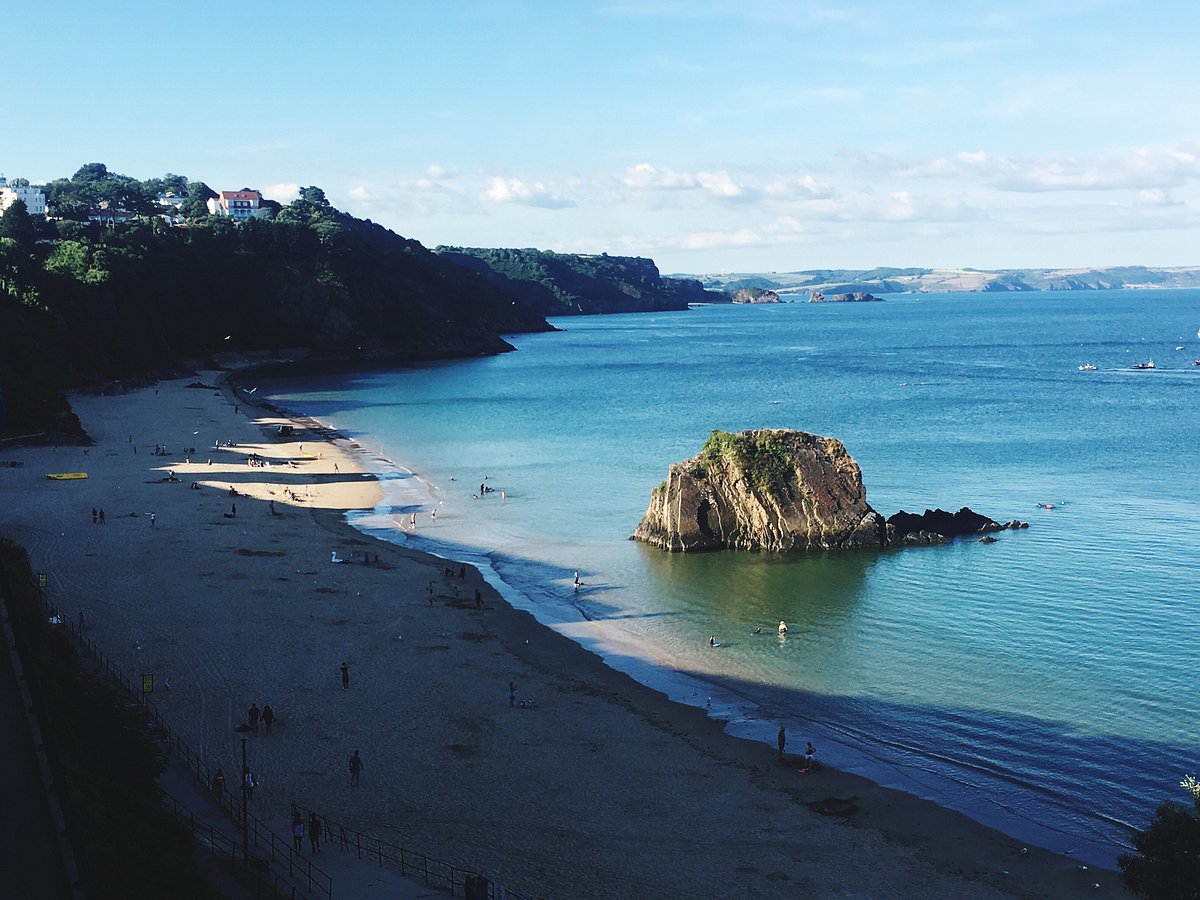 This is a famous Tenby beach which you will often see in pictures and many people come here on vacation. It is a popular entertainment of many visitors. Its main idol is the North Beach, surrounded by the harbor below North Cliffs, the harbor, and Tenby itself.
The feature is that it can be a safe snare on windy days. Here you can rent deck chairs, they can swim in the clear water and it is also called the famous Boxing Day swimming beach of Tenby.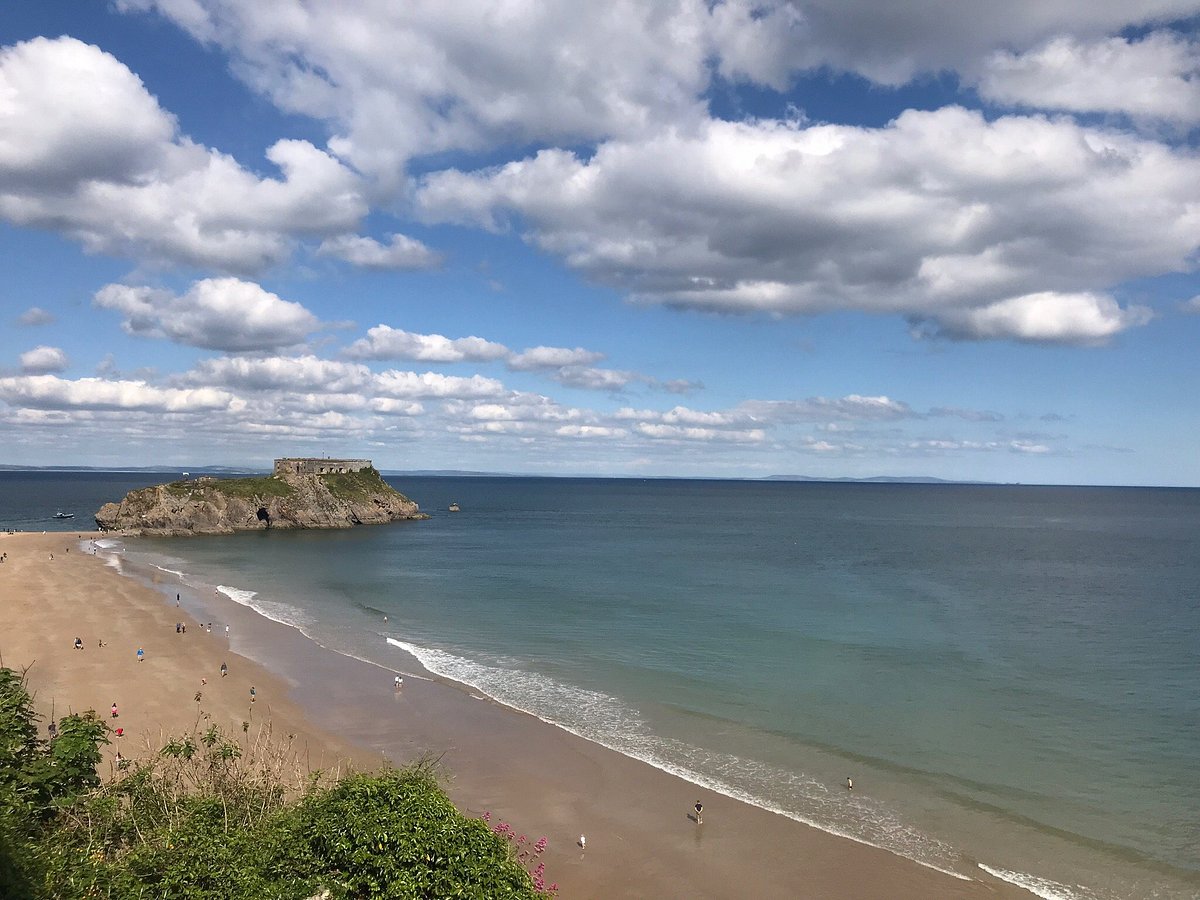 Tenby is considered a dog-friendly beach. Hunters and their owners are welcomed here all year round. This is a great place for a morning walk, one feels great here. Spread over a mile and a half, it is a great place for hiking, sports, and building sandcastles. Of course, this can be fun for anyone.
The further you go from the city, the calmer the beach becomes, so this is a great place to stay if you want to avoid the crowds during your vacation. It is also a great choice for water sports.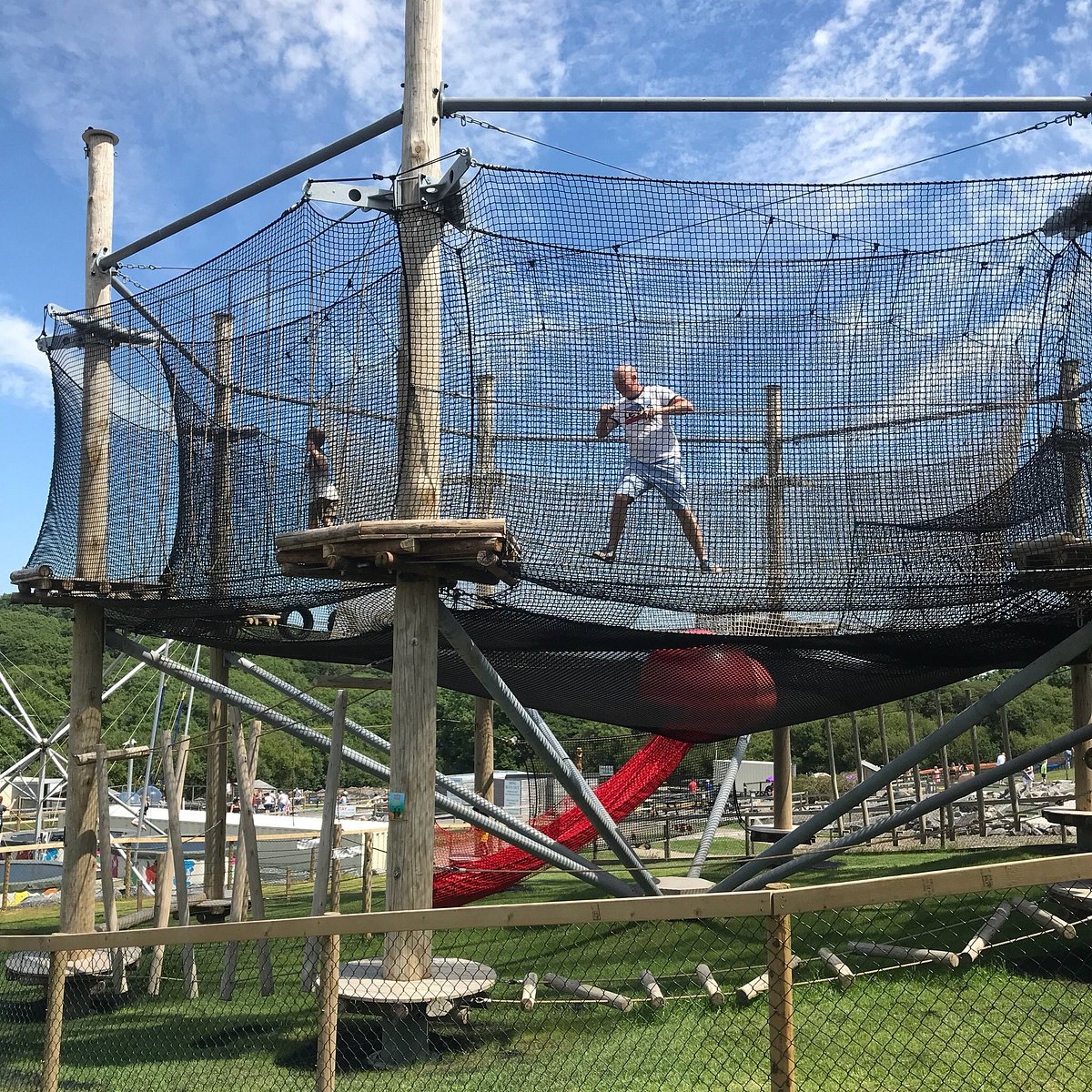 When you visit Dinosaur Park, with over 30 dinosaurs in the jungle, this jungle is your place to be.
In addition to the Jurassic forest, there are plenty of rides for teens and older children. There is also a lot of activity in the park, such as a hurricane car race, time travel in a virtual reality shake, or adventure net.
Skomer Island Pembrokeshire: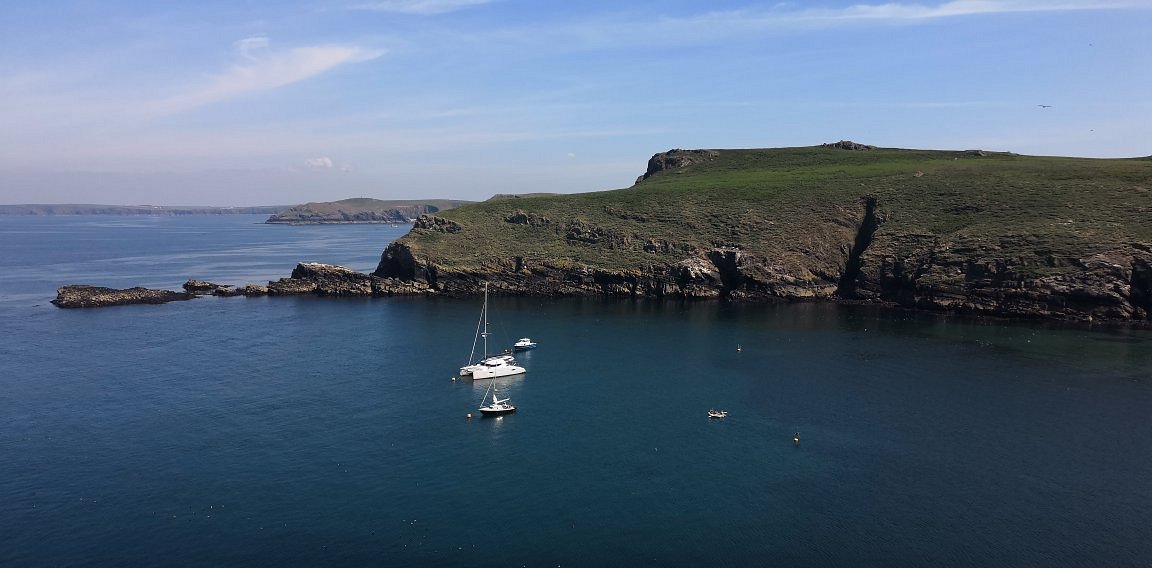 Skomer Island is a magnificent island of accessible marine bird colonies. The most famous bird here is the puffin, but you will also find many other seabirds. You can take a boat trip and cruise around the island to feel beautiful. If you wish, you can get off there and walk around the island routes. This is a charming island.
Thirteen times a year in Ten Bay, the full moon rises in the eastern skies at sunset. This is one of the most beautiful views of nature
It will bother you from anywhere, and one of the best places to see it is on the Foil Error – Eagle Hill – Priscilla Hills. The altitude here gives you a 360-degree view of Pembrokeshire when the moon rises in the east and the sun sets in the west. If you want to see the moon from these places, you must wear warm clothes.
Support an Ironman competitor:
There is a day of the year when the roads are closed to cyclists as many spectators and professionals take part in the Iron Man competition. The competition takes place in September.
You just have to differentiate with the support you render toward other people.
A clear night in Pembrokeshire is known as one of the best places to see the stars and the Milky Way in all its glory. The important thing is that the darker the night, the more stars there will be and their beauty is their example.
Broad Haven (South) is known as the 'Dark Sky Discovery Site'. Featuring a 360-degree panorama of the night sky at its cliff-top location.
Wherever you are in Pembrokeshire you will see stars everywhere, so you should go out of the house and look at the stars and feel their beauty.
FAQs About Things To Do in Tenby:
Where is Tenby?
Tenby, Welsh Dinbych-y-pysgod, market town, and resort, is also a historic county of Pembrokeshire, southwest Wales. It is located on the west bank of Carmarthen Bay inside Pembrokeshire Coast National Park.
Is there a funfair in Tenby?
Yes, there is a festival in Tenby. Thanks to the 17th Century Charter. The city's first St. Matthew Festival takes place on Fridays, Saturdays, and Sundays at the Five Arches Car Park. There are so many kinds it's hard to say. Historical games are also played, and much more.
What is special about Tenby?
Here we will talk about the important things to do in tenby. Sandy beaches, medieval history, wildlife, and dinosaurs – these are just some of the things that make Tenby famous! The most attractive place is Sandy Beach and it is well suited for shelter and family baths. Around it you will find cafes and many restaurants, the whole town is steeped in history.
What is there to do in Tenby in the evening?
South Beach offers beautiful views in the evening. So you should go there, especially things to do in tenby in the evening. You have to take the left path and go up. From here you can easily see South Beach and the famous lifeboat station which is very clean and beautiful. This will be the best place for you at sunset. You will enjoy spending time here.
Is Tanby worth visiting?
Whenever we plan an outing, the important question is whether the place we are going to can move. Tenby is one of the famous places. One of the reasons for its beauty is the beautiful coastal town of Tenby which attracts thousands of tourists with its beautiful beaches, boutique shops, and wonderful pubs and restaurants.
Is Tenby a good family holiday?
Tenby is a great family vacation. It is arguably one of the creams of the Welsh holiday destinations, with the beautiful coastal town of Tenby being the epitome of its own. It's beautiful
With boutique shops, beaches, and fabulous pubs and restaurants, it is a source of entertainment for thousands of tourists.