Florida is known as the "Sunshine State" and is famous for its historical places in central Florida, beaches and natural scenes, as well as its orange orchards and theme parks. Before you visit Florida, you must read this because, in this article, we discuss 15 historical places in Florida you should visit during your vacation.
Here is the list of national historic landmarks in Florida:
1. Mary McLeod Bethune Home
2. Bok Tower Gardens
3. Fort Gadsden
4. Cape Canaveral Space Force Station
5. Cathedral Of St. Augustine
6. Crystal River State Archaeological Site
7. Dade Battlefield
8. Atlantic Coastline Station
9. Dudley Farm
10. El Centro Español de Tampa
11. Fort King Site
12. Fort Mose Site
13. Fort San Carlos De Barrancas
14. Fort San Marcos De Apalache
15. Fort Walton Mound
Mary McLeod Bethune Home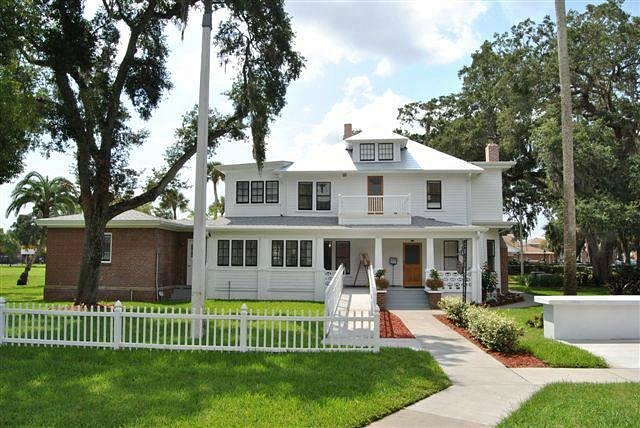 The Mary McLeod Bethune House is a historic house located on the campus at Bethune-Cookman University, Daytona Beach. It was built in the early 1900s and belonged to Mary McLeod Bethune, who was a prominent African American educator and civil rights leader.
It is a small, two-story frame house. It is a classic American Foursquare style house with wings that extend to the sides and a hip-roof porch at the front. It is typical for its time period and has no architectural distinction.
It was built in 1904-05, and the Daytona Educational and Industrial Training School (now Bethune-Cookman University), purchased in 1913 to be the home of Mary McLeod Bethune. The house is open to the public in its historic house museum that interprets Bethune's life.
The Mary McLeod-Bethune Council House National Historic Site can be accessed free of charge by the public from 9:00 am to 5:00 pm on Thursdays, Fridays and Saturdays. Except for 12 noon, tours are available every hour.
Bok Tower Gardens
Bok, a Dutch immigrant and writer, was the one who donated the tower and gardens to the state. Bok's goal was to create a sanctuary for animals and people. The Singing Tower was quickly a popular attraction among early tourists in Florida.
Bok Tower Gardens is a Florida Historical Landmark. Bok Singing Tower stands at 205 feet high. Edward W. Bok built the tower in 1929. It was made of pink and grey marble from Georgia and coquina stones from St. Augustine.
Bok Tower Gardens are open from 8 am until 6 pm, with the last admission at 5:30 pm. Rates may change without notice. Pre-registration is required for groups of 20 or more. Group rates are available. Saturday admission rate: Saturday admission rates are now 50% lower than general admission. Saturday admission is from 8–9 am.
Bok Tower Gardens is typically visited in 4 hours. For those who want to enjoy additional activities such as hiking, photography, or geocaching, they will need to allow for more time.
Fort Gadsden (Negro Fort)
There are historical markers, a picnic area, and a hiking trail that leads to an interpretative kiosk explaining the history of the forts. This trail takes you to the Apalachicola River and then continues to the original fortress. There is also the "Renegade Cemetery", where many of the Black residents who were killed in the explosion of the battle are buried.
It's only a 40-minute drive from there to Apalachicola on Florida's Gulf Coast. There are many activities for all ages, including a variety of festivals and historic walking tours. This is the perfect ending to an exciting road trip to a remote part of Florida's history.
The Negro Fort is a powerful symbol of America's growing slave society. Children, men, and women died for the freedom to live.
Apalachicola National Forest offers many recreational opportunities, including swimming, camping, canoeing and hiking. Visitors can enjoy the tranquillity of the forest at the Fort Gadsden Historic Site.
Cape Canaveral Space Force Station
Cape Canaveral Space Force Station, an installation of the United States Space Force's Space Launch Delta 45, is located in Brevard County, Florida. Since 1966, the Air Force Space & Missile Museum at Cape Canaveral Space Force Station is open. It preserves both hardware and the spirit that inspired America's space explorations.
The museum displays many missiles, rockets, and related spaceflight equipment and memorabilia in several buildings and at nearby facilities.
Things to do: museum showcases the Space Force as an important participant in America's Space Program. It focuses on activities at Cape Canaveral Space Force Station, which began in 1950 and continues today. The tower is open daily from 10 am-5 pm.
Cathedral Of St. Augustine
The Cathedral Basilica of St. Augustine in St. Augustine, Florida, is a historic cathedral and the seat of St. Augustine's Catholic Bishop. It can be found at 38 Cathedral Place, between Charlotte and St. George Streets.
Beautiful murals decorate the cathedral walls. They depict scenes from the history and development of the New World by the Catholic Church. You will also find stained-glass windows that show scenes from Saint Augustine of Hippo's life, after whom the city is named.
Visitors are invited to take guided tours throughout the day. Mass is celebrated Monday through Saturday at 7:00 am.
Crystal River State Archaeological Site
Crystal River State Archaeological Site, a Florida State Park covering 61 acres, is located on the Crystal River Preserve State Park. It is located on Museum Point, U.S. It is known as Crystal River Indian Mounds and is also a U.S. National Historic Landmark, having been designated as such on September 29, 1970.
The park is primarily an archaeological site. It's located at the coast of a vast coastal marsh. Anglers can catch both saltwater and freshwater fish. The park is part of the Great Florida Birding Trail and offers bird-watchers an opportunity to see a wide range of species.
The manatees can be seen from the water's edge when they swim or kayak with them, and they also enjoy the bars special drinks but the grounds are well worth the visit. You'll be able to explore the trails and view all local wildlife, as well as see different shades of blue-clear water. You can visit Hard Rock Casino Hollywood Florida.
Dade Battlefield (Historic State Park)
Dade Battlefield Historic State Park can be found on County Road 603 in Sumter County between Interstate 75 (Florida) and U. S. Route 301 (Sumter County), Florida. This park covers 80 acres and includes 40 acres of pine Flatwoods as well as a live oak hammock.
It is also known as the Dade Massacre Site. This site preserves the Second Seminole War battlefield, where tribal Seminole fighters fought soldiers under Major Francis L. Dade's command on December 28, 1835.
The Dade Battlefield Society sponsors an annual re-enactment of a battle that sparked the Second Seminole War every year on the weekend following Christmas. It is also a United States National Historic Landmark.
Atlantic Coastline Station
This structure, also known as the Atlantic Coast Line Railroad Station historical landmarks in Orlando Florida was once a city effort to promote tourism to Orlando during its 1920s Florida Land Boom.
It is the station's only station built in Mission Revival architecture and is considered the best example in Central Florida. The City of Orlando was awarded the Outstanding Commercial Rehabilitation Award in 2014 for its historic preservation work.
Dudley Farm (Historic State Park)
In our list of 15 historical places in Florida, we have added Dudley Farm as the nineth place. Dudley Farm Historic State Park is also known as Dudley Farm and is located in Newberry, Florida. Phillip Benjamin Harvey Dudley Sr. established the farm before the Civil War. His son, P. B.H. Dudley Jr. created the farmstead that you see today.
There are 18 original buildings that were built between the 1880s and 1930s, including the family farmhouse, original furnishings, general store, post office, and cane syrup complex.
You can stroll the nature trail or rock on the large porches that were once used for gathering places. Take a picnic to enjoy the deer, wild turkeys and bluebirds that roam the fields. Participate in the Annual Cane Festival and a Dudley Kids event.
El Centro Español de Tampa
El Centro Espanol de Tampa, a historical building located in Tampa's Ybor City neighbourhood, is in the U.S. state of Florida. The red brick structure, located at 1526-1536 East 7th Avenue, was built in 1912 as an ethnic and cultural clubhouse.
It is now part of an entertainment, restaurants and shopping complex. It is one of few structures that survived from Spanish immigration to the United States in the late 19th century and early 20th centuries.
It is still an important part of the district. On December 4, 1990, it was designated a National Historic Landmark District.
Fort King Site (National Historic Landmark)
Fort King was an American military fort located in north-central Florida near Ocala. It was named for Colonel William King, who was commander of Florida's Fourth Infantry, and first governor of the provisional West Florida area.
The park amenities include a reconstructed Fort King, the Visitor Center with Fort King's history and a library. You can also view videos and see artifacts scattered throughout the site. The park is open seven days a week, from sunrise to sunset or until 7 pm (whichever comes first). Due to the tourist attraction, a large community is running their hotels business.
Fort Mose Site (Historic State Park)
There are many famous landmarks in Florida and Fort Mose Historic State Park is one of them, a U.S. National Historic Landmark, is located two miles north of St. Augustine, Florida, on the western edge of a salt marsh that separates the mainland and the coastal barrier island.
There are picnic areas, an observation and birding boardwalk and a kayak launch boardwalk. The park also has a museum, visitor centre, and museum. For those who are interested in wildlife viewing or history, there are many educational opportunities. The park is open every day from 9 am to 5 pm.
Fort Barrancas
Fort Barrancas, high on a bluff overlooking Pensacola Bay's entrance, is a monument to America's legacy of early homeland defence. There are indoor exhibits on the history of the area, as well as restrooms. Park rangers and volunteers staff the centre.
Fort Barrancas Area includes all forts facilities and is open Saturday to Wednesday from 9 am to 4:05 pm. To enter, visitors must have access to the base.
Fort San Marcos De Apalache
San Marcos de Apalache Historic State Park, Florida, is located in Wakulla County. It was established around the historical site of a Spanish colonial Fort, which was later used by the succeeding countries that controlled the area.
The museum features pottery and tools found near the original fort. The history of San Marcos is explained through interpretive displays.
Picnic tables and grills are available in the picnic area. Tucker's Point provides a beautiful view of the water's edge, where the St. Marks River joins with the Wakulla River. It flows into Apalache bay. From Thursday to Monday, 9 am-5 pm.
Fort Walton Mound
The Fort Walton Mound (8OK6), an archeological site, is located in Fort Walton Beach, Florida. This large platform mound was constructed by the Pensacola Culture, a local Mississippian culture. It dates back to 850 CE. The significance of the mound led to its designation as a National Historic Landmark (in 1964).
The Fort Walton Temple Mound is open to the public from 8:00 am to 5:00 pm. Visitors can explore the museum at their own pace as it is self-guided.
Hope our mentioned 15 historical places in Florida will help you to make your tour memorable.
What is the most historical place in Florida?
If you visit historic places in Florida, you will find fascinating characters, beautiful buildings and landscapes. Dudley Farm Historic State Park is the most historical place in Florida.
What are the top 3 popular historical sites?
For Florida: Florida is a hub of tourism, in 2021 118 million domestic tourist visit Florida. Dudley Farm, Fort Gadsden and Bok Tower Gardens are meanwhile top 3 historical sites of 2021.
All over the USA: Independence Hall, The Statue of Liberty and The Alamo are the top 3 historical sites of America.
Related Articles: